When you decorate a room, you want the result to be special and customized. Tile offers endless possibilities to make every installation unique, and the variety of tile designs you choose, coupled with a distinct pattern for the layout, make the options practically infinite.

Tile manufacturers have responded to designers' desire for coordinated tile options, creating collections with various sizes of field tile, mosaics and edging tiles that can be combined in remarkable ways. In addition, collections can be mixed and matched for an even more customized look. Combining a stone collection with a textile collection, for example, could introduce additional color and texture to a project.

Checkerboard, herringbone, brickwork, diamond, windmill, basket weave and pinwheel are just a few of the myriad of patterns available for tile layout. Changing the pattern alone can transform the look of a room. For example, if you have a basic white subway tile, you could lay it in a classic brickwork pattern or turn it on end for a more modern, vertical look. Adding a herringbone pattern would create a very different effect with the same white tile. If you used all three patterns within a single space, the basic white subway tile wouldn't seem so basic after all.

Some tile patterns like windmill or pinwheel require more than one size of tile, and personality can be injected through the use of multiple tile designs and contrasting colors along with the various sizes. Grout choices add even more interest. Consider using a dark grout with light-colored tiles or a light grout with dark tiles to enhance the effect of the pattern.

Interruption of a pattern can bring interest to a project as well. Consider random placement of a few tiles in a contrasting color, or replace a whole row with a patterned tile in a field of solid. Break up a swath of large format tiles with a strip of mosaic tiles or with a couple of rows of narrow pencil tile.

Tile patterns can be utilized to achieve many different design goals in a space far beyond basic visuals. Large rooms can be brought in visually with the use of borders on the floor. A focal point in an entry might be established with a medallion of tile on the floor or in a kitchen with a mosaic backsplash behind a sink or stove. Anchor a seating group with a tile "area rug," or tile a single wall in a bedroom with chevron stripes for a dramatic effect.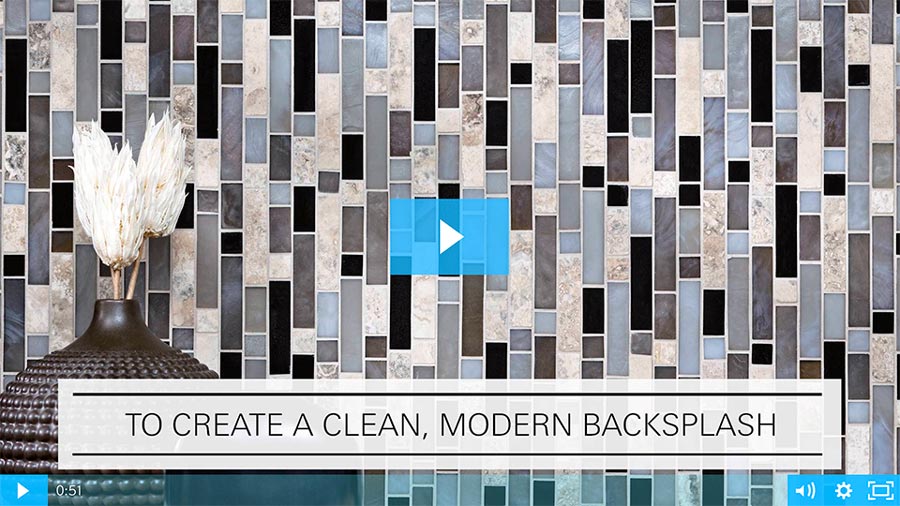 Inspired by these ideas and designs? It's time to start planning!