If you are looking for advice or pointers on your new hardwood flooring project, you've come to the right place.

Hardwood flooring can completely change a space. It can add character to any room, from rustic and traditional to modern and chic. But just like any new flooring process, sometimes it's hard to know where to start. That's why Melissa Michaels is here to save the day.

As the creator of The Inspired Room design and decorating blog, Melissa is a great reference for your project. She has completed both large and small projects with hardwood flooring including her own kitchen and family room.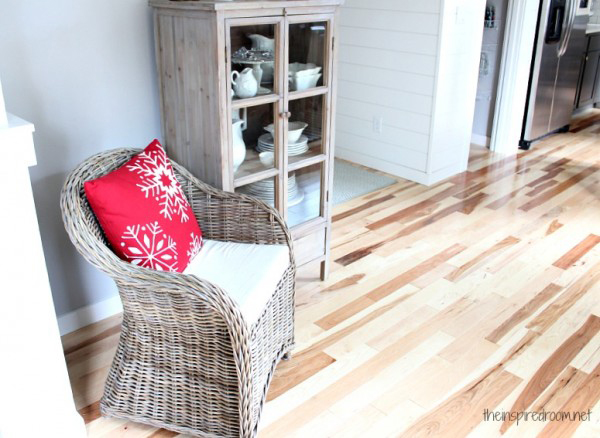 Melissa will tell you that the most important step in a hardwood flooring project is to think of the space first, and have a vision for the finished project. It is important to consider not just the color of the floor, but the color of the walls, the color of the furniture and even the color of the appliances in the room. With hardwood flooring, the color is important because hardwood comes in endless color and texture options.

Melissa is full of ideas and inspiration for hardwood flooring. Check out this blog post of hers to see how she determined what direction to go with for her home. But if you're still not sure about color or texture options, ask for professional help. Our flooring retailer staff are experts in hardwood and will give you even more detailed information as well as provide you with some samples to take home to see how different colors could look in the space. Selecting the hardwood you want to install is definitely the hardest part. Once you have made your choice, it's mostly a step-by-step process from there.

Once you've chosen your flooring, you're ready for installation!Just be sure to follow these tips for a smooth installation.

Arrange a time for the retailer to drop off your new hardwood, and arrange another time for an installer to install it.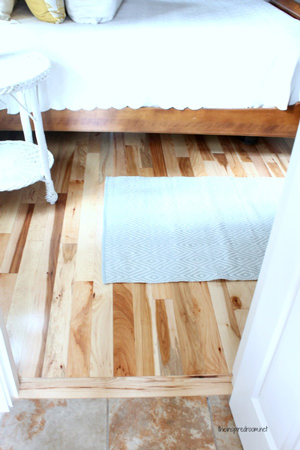 The reason you need the hardwood delivered some time before installation is so the hardwood can get acclimated to the temperature and moisture level of the room. Our professional installers will know the appropriate amount of time you need for this. Pro tip: Putting in hardwood should be left to professional installers. We have the proper experience, training and tools to get the job done quickly and efficiently. It may cost more, but it is more than worth the extra investment.

Once the flooring has arrived, follow these steps:
Talk to us about what steps need to be taken to prepare the room for new flooring such as removing furniture.
Talk to us about the process around removing and disposing of your old flooring.
Prepare the space. If you need to paint, paint while the room is clear and you don't have to worry about spilling paint on your new floor. If you want to put in new light fixtures, do it while there is no new flooring to damage during installation. Remember the vision of the finished project because before you know it your vision will be a reality!
Let our installers do their thing and put your new space together
Finally, enjoy your new flooring!

If you want more info, check out Melissa's story of preparing and installing her new hardwood floors, and check out her finished project here.